The International Festival Recommends: Seven things to see and do in October
News & Blogs
27 Sept 2023
News Story
The nights may be drawing in and the leaves may be falling, but there's still loads to see in Edinburgh in October. Bookended by harvest festivals in September and Halloween at the end of the month, October is a season of woodland walks, hot mugs of tea and storytelling. It's a season perfectly complemented by two of the shows highlighted in our monthly guide, Dracula: Mina's Reckoning at the Festival Theatre and the annual Scottish International Storytelling Festival. There's also plenty of new works by some of our old Festival favourites to revisit too, from contemporary ballet to bombastic classical music over at the Usher Hall.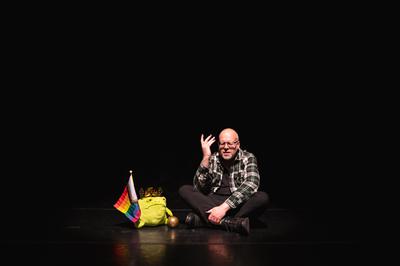 Storyteller James Stedman tells us stories about queer teens growing up against the background of Section 28 in the 1980s and 1990s. Combining myths and magic with reality, Stedman refuses to let LGBTQIA+ people be silenced. He creates a joyful and irreverent look at history and glances towards a more hopeful future.
Joyfully Grimm: Reimagining a Queer Adolescence is at 8pm on Monday 16 October.
Deaf Action Presents: Red Aphrodite by Amy Murray
Amy Murray breaks down taboos and prejudices with her performance, Red Aphrodite. Exploring lust, periods, dating and sex, Murray presents a fun look at feminism. Murray dives into her life and isn't afraid to share the embarrassing, sad and funny moments. This performance is presented by Deaf Action and will be performed in BSL with a BSL interpreter providing a voiceover in English.
Deaf Action Presents: Red Aphrodite by Amy Murray is at 8pm on Thursday 19 October.
The Promise
Set during the turmoil of war, in 1923 two seven year-old boys – one Greek, one Turkish – make a promise to each other that will tie them together for eternity. One hundred years later, storyteller Anna Conomos-Wedlock presents a powerful story inspired by stories from refugees from Asia Minor, reflecting on memory, friendship and the meaning of displacement.
The Promise is at 8pm on Friday 27 October.

Sibelius One by the Royal Scottish National Orchestra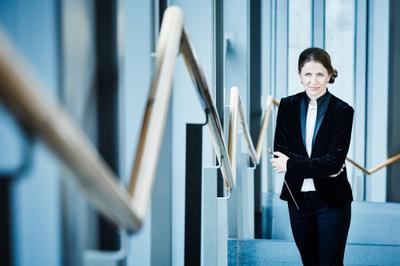 Festival favourite the Royal Scottish National Orchestra presents a rousing concert that's all about new beginnings and strong emotions – perfect for those back-to-school vibes.
Let the orchestra lead you through a journey through the seasons in this concert. Travel to a 19th century village in Pennsylvania in Aaron Copland's Appalachian Spring, through Florence Price's autumnal Second Violin Concerto and finally retreat into the winter with Jean Sibelius's majestic First Symphony.
If you missed Oslo Philharmonic's superb rendition of Sibelius's Seventh Symphony at this year's Festival, listen to RSNO's performance of Sibelius's First Symphony to really find out where it all started.
Sibelius One is at 7.30pm at the Usher Hall, Edinburgh on 27 October and at Glasgow Royal Concert Hall on 28 October.
Group Portrait in a Summer Landscape at The Lyceum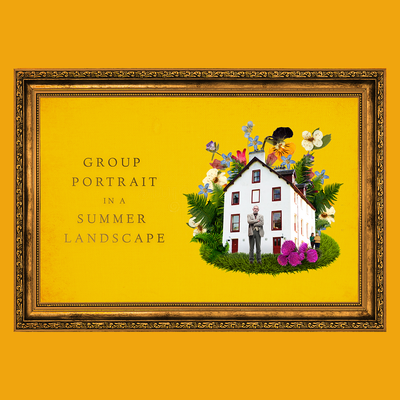 Revisit one of our beautiful venues this month for Group Portrait in a Summer Landscape, a new production from writer Peter Arnott and director David Greig.
Although Group Portrait in a Summer Landscape is Arnott's latest play, it has been on his mind for over 40 years. Influenced by both the fall of the Berlin Wall and the 2014 Scottish independence referendum, Group Portrait in a Summer Landscape tells a Chekhovian tale of a middle-class family embroiled in debate, secrets and intrigue.
Taking place in a Perthshire country house the day before the referendum, the drama centres on an academic patriarch and his family and friends who agree, disagree and are indifferent to the impending vote. However, the political is balanced against the personal, as the ghost of George's teenage son, Will, looms over the group and reminds them of their pasts.
Group Portrait in a Summer Landscape is at The Lyceum, Edinburgh from 4–14 October.
Scottish Ensemble Presents: Jasdeep Singh Degun
Famed for their commitment to championing both contemporary and classical music, the Scottish Ensemble are joined by sitarist Jasdeep Singh Degun for a magical evening marrying together Western and Indian classical traditions.
Known for their unconventional approach to classical music, the Scottish Ensemble often complement traditional classical pieces with more contemporary works in their programmes. This year's Festival saw them perform both Schoenberg's Verklärte Nacht and Kate Bush's The Man with the Child in his Eyes. Hailed as one of Britain's leading sitarists, Jasdeep Singh Degun will perform music from his debut album Anomaly and new work. Fans of Anouskha Shankar's performance at Festival Theatre wouldn't want to miss this equally concert magical.
Scottish Ensemble Presents: Jasdeep Singh Degun is at The Queen's Hall at 8pm on 5 October.
Dracula: Mina's Reckoning by National Theatre of Scotland
With Halloween just around the corner, it's the perfect time to revisit classic Gothic literature.
After just wrapping up their run at the 2023 Festival with their acclaimed show, Thrown, National Theatre of Scotland returns to Edinburgh with Dracula: Mina's Reckoning – a show with similar themes of empowerment and feminism.
National Theatre of Scotland, Aberdeen Performing Arts and Coventry's Belgrade Theatre bring Dracula to the stage in this new, uniquely Scottish retelling. Told from Mina's perspective, the classic vampire story takes on a new dimension. Mina recounts her encounter with the terrifying Dracula to a group of women in a psychiatric hospital in Aberdeen in 1897, shedding light onto a world where female agency is possible. A cast of women and non-binary actors take the audience on a journey of addition, intoxication and empowerment.
Dracula: Mina's Reckoning is on tour throughout October. It is showing at Dundee Rep Theatre 5–7 October, Festival Theatre Edinburgh 11–14 October, the Belgrade Theatre, Coventry 18–21 October and finishes its tour at Liverpool Playhouse on 24–28 October.
Bach's B Minor Mass by the Scottish Chamber Orchestra
If you missed the Scottish Chamber Orchestra's performance of The Magic Flute in the 2023 Festival, they're back in the city delivering powerful renditions of Bach's B Minor Mass at the Usher Hall. Joined by many familiar Festival's faces including Richard Egarr, Rowan Pierce and Chorus Director Gregory Batsleer, let them take you on a journey to the heavens.
Bach's final choral masterpiece is the culmination of a lifetime of a genius working at his craft. Noted for its sheer expressive humanity, Bach's B Minor Mass remains one of the most famous and iconic works of Baroque music. Bach's masterpiece takes the audience through a journey of human emotion – from heavenly joy to the hellish lows. Conducted by one of the eminent British Baroque musicians, you'll rarely hear a finer example of the work.
Bach's B Minor Mass is playing at Usher Hall, Edinburgh at 7.30pm on 12 October and at City Halls, Glasgow at 7.30 pm on 13 October.
Twice-Born by Scottish Ballet
Scottish Ballet has been at the helm of reimagining new and explosive work for almost half a century. In 2022, they brought Coppélia to life at the Festival Theatre, incorporating elements such as AI and film to transcend the boundaries of classical ballet.
This October, they return to Edinburgh again to present two bold dance pieces with their work, Twice-Born. The title piece is a groundbreaking debut work from award-winning choreographer and renowned Hip Hop dancer Dickson Mbi, whose regular collaborators include CHVRCHES, Black Eyed Peas and Robbie Williams. Mbi won the Olivier Award in 2023 for Outstanding Achievement in Dance with his work Enowate.
Twice-Born is complemented by Schachmatt (Checkmate), a quirky equestrian-themed dance which takes place across a giant chessboard, choreographed by Cayetano Soto. During the world premiere, the audience were up on their feet and gave the performance a standing ovation.
Scottish Ballet: Twice-Born is touring throughout Scotland in October. It will be showing at His Majesty's Theatre, Aberdeen on 6 October and Festival Theatre, Edinburgh on 20–21 October.
What are you most excited to see this October? Let us know on social media using #EdIntFest.