Edinburgh Festival Chorus
The Edinburgh Festival Chorus gives voice to the International Festival's choral programme.
Each year, singers from across Scotland come together to perform cornerstone works of the classical repertoire with some of the world's greatest soloists, conductors and orchestras.
For over 50 years, The Edinburgh Festival Chorus has been the backbone of the International Festival's choral programme.
Over that time, its singers have had the opportunity to perform alongside the likes of Leonard Bernstein and the London Symphony Orchestra, Marin Alsop and the São Paulo Symphony Orchestra, Herbert von Karajan's Berlin Philharmonic and Gustavo Dudamel and the Los Angeles Philharmonic.
Edinburgh Festival Chorus scores are supported by Risk Charitable Fund.
How do I join?
The Edinburgh Festival Chorus is a world-class symphonic choir – as such, an audition is required to join. We will expect you to be able to read music and sing to a high standard.
If you're interested in joining the Chorus, email our Chorus Manager Gemma Wallbanks ([email protected]) who will provide you with further information.
The audition
The audition will last approximately ten minutes and is intended to be a relaxed, friendly guided session with the Chorus Director, James Grossmith, and our accompanist, Stuart Hope. You are asked to bring a short, straightforward song or aria of your choice. There will also be vocalising exercises to assess your vocal range. You will not be asked to sightread; instead the Chorus Director will work with you to learn a very short passage of music, with plenty of assistance given.

What do I have to prepare?
A classical song or aria of your choice with piano accompaniment, of around two to three minutes (or four minutes max). We have a selection of suitable choices available, with sheet music to download (please contact [email protected] to enquire about this), but you are welcome to choose your own comparable song. Please note that folksongs, unaccompanied songs, songs from musicals, or songs in Gaelic are not suitable for this audition.

Being part of the Chorus
The Edinburgh Festival Chorus is a group of 130 singers drawn from all walks of life. Not just another amateur choir, they delight in having the opportunity to work with the very best conductors and orchestras from around the world. The Chorus wouldn't be what it is today without their passion and dedication.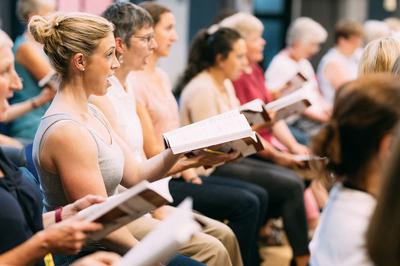 What kind of time commitment do I need to make?
The Edinburgh Festival Chorus rehearses every Tuesday evening at 7.00-9.30pm from October to June.
There are also rehearsal weekends in November, January, March, May and July and you will need to be available for the duration of the International Festival in August, for concerts and associated rehearsals.
I'm not sure if I have enough time!
If full membership is not possible, we also have an Augmenters List for singers who would still like to be involved. As an Augmenter, you are invited to join the Chorus for a particular work and its related rehearsals.
Augmenting is a fantastic opportunity to be involved if you haven't the time to fully commit to the Chorus.
If you are interested in becoming an augmenter, please email [email protected]
Beyond the International Festival
The Edinburgh Festival Chorus primarily performs at the International Festival but additional performances may occur.
The Chorus have previously taken part in Edinburgh's Christmas Street of Light in 2016, and performed Berlioz's Lelio – the enthralling sequel to Symphonie Fantastique with the BBC Scottish Symphony Orchestra under Pascal Rophé in 2019.
The Chorus will also be performing Verdi's Requiem with the BBC Scottish Symphony Orchestra under Ryan Wigglesworth in March 2024.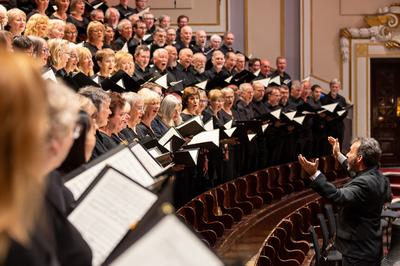 A little history...
The Edinburgh Festival Chorus was founded in 1965, and made its debut with the Scottish National Orchestra for the Opening Concert, performing Mahler's monumental Symphony No. 8. Since then, it has been at the heart of the International Festival, performing annually with internationally renowned orchestras, soloists and conductors.
The Chorus has performed virtually all the great standard works of the 19th and 20th centuries, continuously broadening its repertoire under the Festival Director's programming.
Chorus Director – James Grossmith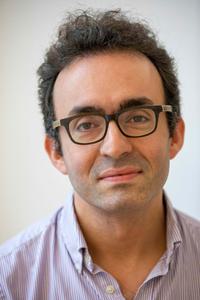 James Grossmith took up the position of Chorus Director in September 2023. James studied conducting at the Royal Conservatoire of Scotland after studying music as organ scholar of Clare College, Cambridge. From 2005 he worked as Chorus Master and staff conductor at Scottish Opera, Director of Choral Music at the RCS and Director of Chapel Music at the University of Glasgow. In 2014, James was appointed Principal Chorus Master of Kungliga Operan (Royal Swedish Opera), one of Europe's foremost full-time professional opera choruses, collaborating with many of Europe's leading conductors. Whilst in Stockholm, James conducted the music for the Nobel Prize Banquet in 2018 to a global TV audience of half a billion viewers, and was conductor for the Royal Swedish Opera's flagship opera commissions, known as 'Short Stories', which are televised annually in Sweden.


As a choral and orchestral conductor, James has worked, amongst others, with the BBC Scottish Symphony Orchestra, The London Sinfonietta, The Paragon Ensemble, The BBC Philharmonic Orchestra, The St Magnus Festival Chorus, The Royal Scottish National Orchestra Chorus and the Aberdeen Sinfonietta as well as the Hermitage Orchestra in St Petersburg, the Orchestra of Scottish Opera and the Royal Swedish Orchestra in Stockholm.

James returned to the UK in 2022 where he is now Chorus Director of the Belfast Philharmonic Choir, a role which he combines with his role in Edinburgh.