The International Festival Recommends: Seven things to see and do in November
News & Blogs
25 Oct 2023
News Story
As the nights grow cooler and darker, evenings spent in warm and bright theatres and music halls bring even more joy and delight. From Edinburgh's poetry and spoken word festival Push the Boat Out to Festival favourites performing at the London Jazz Festival, there's lots to keep you entertained this November.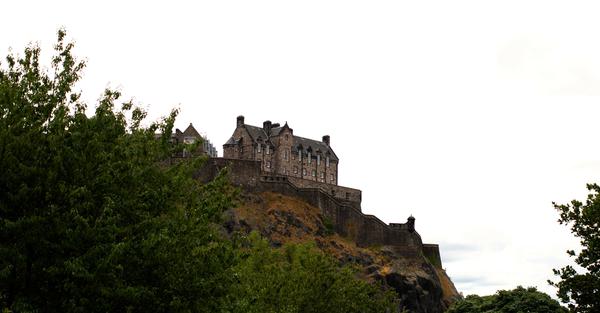 Project Smok at The Caves
Project Smok had The Hub dancing to their spirited Scottish neo-trad compositions in August. Now, they're returning to one of Edinburgh's most atmospheric venues, The Caves, to present an evening of contemporary Scottish folk music.
Comprising 2020's BBC Young Traditional Musician of the Year Ali Levack on whistles, Ewan Baird on bodhran and Pablo Lafuente on acoustic guitar, Project Smok reinvents folk music to be even more electrifying and dynamic.
Returning to Edinburgh on 9 November, Project Smok are bound to give you another energetic evening of dancing and mind-blowing folk music. BBC Scotland raved 'there are no words to describe how good they are!', but we challenge you to find some anyway!
Project SMOK play at The Caves on 9 Nov
Cécile McLorin Salvant at the Southbank Centre
Cécile McLorin Salvant performed two stellar concerts at the International Festival this year, including the UK premiere of her song cycle Ogresse at the Festival Theatre. The three-time Grammy-award winner for Best Jazz Vocal Album carries a remarkable vocal technique and on-stage persona.
McLorin Salvant's Ogresse is a captivating and haunting tale. Powerful lyrics weave together a story neatly summarised by the phrase 'she falls in love, she eats the guy, she dies', the song cycle was full of dramatic highs and lows.
Image gallery
Open an image gallery
Her performance at the Southbank Centre will bring to life her latest album Mélusine. Based on the European folk tales of Mélusine, a female spirit depicted as a serpent from the waist down, the new album also keenly reflects McLorin Salvant's own feelings 'of being a hybrid, a mixture of different cultures'. The latest album mixes five original songs with nine interpretations of much older pieces in French, Occitan, English and Haitian Kreyol.
Her powerful storytelling immerses her audiences in drama and intrigue, allowing her to whisk the room away with her genre-defying sound. McLorin Salvant frequently reimagines hidden gems of the jazz world, through humour, power dynamics and narrative twists.
Cécile McLorin Salvant she will perform at the Southbank Centre as part of the EFG London Jazz Festival on 15 Nov.
Abel Selaocoe and the London Symphony Orchestra at the Barbican
Both Abel Selaocoe and London Symphony Orchestra took the Festival by storm this year. Selaocoe enchanted audiences at The Hub with his energy and improvisation skills as he played Bach, traditional South African music and his own compositions.
During their residency, London Symphony Orchestra played a range of different concerts, including a stunning example of Sergei Rachmaninoff's Second Piano Concerto and a rare performance of Olivier Messiaen's Turangalîla.
Abel Selaocoe and London Symphony Orchestra will perform a jazz-infused opener from Gary Carpenter, a joyful folk music suite from Béla Bartók, and Selaocoe will debut his much-anticipated cello concerto, Four Spirits. Embracing a range of genres and styles, his music seamlessly combines Western classical and South African melodies with singing, body percussion and improvisation.
Abel Selaocoe & LSO will perform at the Barbican as part of the EFG London Jazz Festival on 16 Nov.
BBC Scottish Symphony at the Usher Hall
Edward Elgar is considered one of Britain's most iconic composers, with his Pomp and Circumstance marches and Enigma Variations having become a firm part of British cultural heritage. In his majestic First Symphony, he reinvents and reinvigorates expectations towards British classical music.
The symphony, inspired by 19th century Romantic composers, features movements that burn with passion with sweeping and magnificent melodies. Elgar once referred to his British composer peers' pieces as 'museum pieces', instead this First Symphony takes audiences on a beautiful aural journey.
Also featuring in this performance is Mozart's Concerto No 20 in D minor K.466 and Jonathan Woolgar's award-winning 2021 composition Canzoni et Ricercari, a modern piece inspired by the Renaissance, filled with haunting beauty.
If you missed the acclaimed BBC Scottish Symphony Orchestra's fantastic Closing Concert this year, their November concert at the Usher Hall is the perfect chance to see them at their best.

The BBC Scottish Symphony Orchestra play at the Usher Hall on 26 Nov.
Push The Boat Out 2023 at Summerhall
Created during lockdown, Push the Boat Out is Edinburgh's very own poetry festival. The festival celebrates contemporary poetry and explores how to present the spoken word in refreshing new ways. Push the Boat Out has created a space where poetry can thrive, grow, experiment and change and it wants to take the audience on this exciting journey, too.
Taking place at the historic Summerhall, Push the Boat Out invites you to explore the rooms of the old veterinary school to witness multiple different art forms coming together, colliding and creating something unique and spectacular. This year's programme features award-winning Scottish poet Michael Pederson.

Bringing together both established spoken word artists and those new to poetry, Push the Boat Out celebrates the power of words and language in all its forms.
Push the Boat Out takes place at Summerhall, 24 – 26 Nov.
Through the Mud at The Lyceum
Apphia Campbell's new play Through the Mud knits together two stories exploring the fight for civil rights alongside a powerful live soundtrack of traditional gospel and blues and original music. Following Black Panther Assata Shakur in the late 1970s and a young university student during the Ferguson riots in 2014, both women challenge and interrogate the American justice system. Both are subsequently criminalised for political action and both must ask themselves the question: stay and fight or flee to safety?
Initially conceived as an award-winning one-woman Fringe show in 2017 as WOKE, Through the Mud presents a larger scale imagining of that play. Through the Mud has been made possible through a collaboration with The Lyceum and Stellar Quinns.
Through The Mud is playing at the Lyceum from 2 – 4 Nov.
Scottish Opera's Barber of Seville at Festival Theatre
Giaochino Rossini's classic Italian comedy opera returns to Edinburgh. If you missed the Théâtre des Champs-Elysées's production during the Festival in 2018, the Scottish Opera is touring their acclaimed 2007 production of Rossini's famous work across Scotland.
Featuring Samuel Dale Johnson in the title role, Figaro is a barber, fixer and general man of action. He tries to help his pal Count Almaviva to win beautiful Rosina's hand in marriage. The only problem is that Rosina is in Dr Bartolo's care, and he's already decided to keep her for himself. However, love gets in the way and through Figaro and Almaviva's spirited hijinks they win Rosina over and free her from Bartolo.
Even if you're unfamiliar with opera, you'll probably recognise the well-known aria 'Largo al factotum della città' from the opening of Mrs Doubtfire or from Woody Woodpecker's Barber of Seville cartoon from 1944. The opera itself is a classic romantic caper filled with comedy, trickery and happily-ever-afters.
What to know more about The Barber of Seville? Learn more in our 'What is the Barber of Seville all about' blog
The Barber of Seville is playing at the Festival Theatre from 3 – 11 Nov.

---
What are you seeing in November? If you go to any of these, or have suggestions to add to our list, we'd love to hear about them! Share with us on social media at @edintfest.